On the morning of July 24, 1911, an enterprising lecturer-explorer from Yale University set off in a cold drizzle to investigate rumors of ancient Inca ruins in Peru. The explorer chopped his way through thick jungle, crawled across a "bridge" of slender logs bound together with vines, and crept through underbrush hiding venomous fer-de-lance pit vipers.
Two hours into the hike, the explorer and his two escorts came across a grass-covered hut. A pair of local farmers walked them a short way before handing them over to a small boy. With the boy leading the way, Hiram Bingham stumbled upon one of the greatest archaeological finds of the 20th century and what was named in 2007 as one of the new seven wonders of the world: Machu Picchu.
What Bingham saw was a dramatic and towering citadel of stone cut from escarpments. Fashioned by men without mortar, the stones fit so tightly together that not even a knife's blade could fit between them. He wondered: Why? By whom? For what? Discover with us the ruins of Machu Picchu that continue to reveal the mysteries of the Inca Empire.
The Lost City of the Incas
When the explorer Hiram Bingham III discovered Machu Picchu in 1911, he was looking for a different city, known as Vilcabamba, the so-called Lost City of the Incas where the last of the independent Inca rulers waged a years-long battle against Spanish conquistadors. What Bingham had found, however, was not the lost city, but a different lost city...
There were no accounts of Machu Picchu in any of the much-studied chronicles of the Spanish invasion and occupation, so it was clear European invaders had never discovered it.
Bingham found more than a hundred skeletons at the site and believed that roughly 75 percent of the skeletons were female, but modern studies have shown a more reasonable fifty-fifty split between male and female bones. Brian Bauer, an expert in Andean civilization, says Machu Picchu was, in fact, relatively small by Inca standards and maintained only about 500 to 750 people.
Dr. Johan Reinhard, who have been studying ceremonial Inca sites at extreme altitudes, gathered information from historical, archaeological, and ethnographical sources to demonstrate that Machu Picchu was built in the center of a sacred landscape.
Machu Picchu is nearly surrounded by the Urubamba River, which is revered by people in the region still today. The mountains that cradle the site also are important sacred landforms. "Taken together, these features have meant that Machu Picchu formed a cosmological, hydrological, and sacred geographical center for a vast region," Reinhard says.
Machu Picchu is formed of buildings, plazas, and platforms connected by narrow lanes or paths:
Machu Picchu Nowadays
In September 2007, Yale University agreed to return to Peru some of the thousands of artifacts that Bingham removed to Yale to study during his years of exploration and research. These items were placed in the UNSAAC-Yale International Museum for the Study of Machu Picchu and Inca Culture, which opened in Cusco in 2011.
Being named a marvel of the modern world as part of a worldwide survey in 2007 was a mixed blessing for the people of Cusco, the ancient center of the Inca world and the city closest to Machu Picchu. Undoubtedly, this magnificent hidden citadel continues to surprise us...
How to get to Machu Picchu
You can walk until the ruins from Cusco. The path roughly offers a variety of fascinating Inca sites and the beautiful scenery of the Machu Picchu National Park, which looks almost as it did in Bingham's time.
This is South America's number one trek and one of the most popular treks in the world. Offering 4 days of trekking along original paved Inca pathways whose final destination is the citadel of Machu Picchu.
The most traditional and frequent way is to get by train from Cusco to the train station of the town of Machu Picchu (Aguas Calientes). Train tickets from Cusco can run more than a hundred dollars each, and entry fees range from $47 to $62 depending on which options you choose. In between, a round-trip bus trip up and down the 2,000-feet-high slope atop which the Inca ruins are located costs another $24.
In addition, there are different ways to get to the citadel of Machu Picchu, each one offers different activities and landscapes that will be recorded in your eyes forever...
A four day trek to Machu Picchu for the ultimate adventurer! This tour combines hiking and biking through the mountains, jungle and a section of the ancient Inca trail, river rafting, and flying through the air on zip-lines in canyons. One of the most popular trips to Machu Picchu with daily departures and usually plenty of availability all year round.
A four day trek to Machu Picchu for the ultimate adventurer! This tour combines hiking and biking through the mountains, jungle and a section of the ancient Inca trail, river rafting, and flying through the air on zip-lines in canyons. One of the most popular trips to Machu Picchu with daily departures and usually plenty of availability all year round.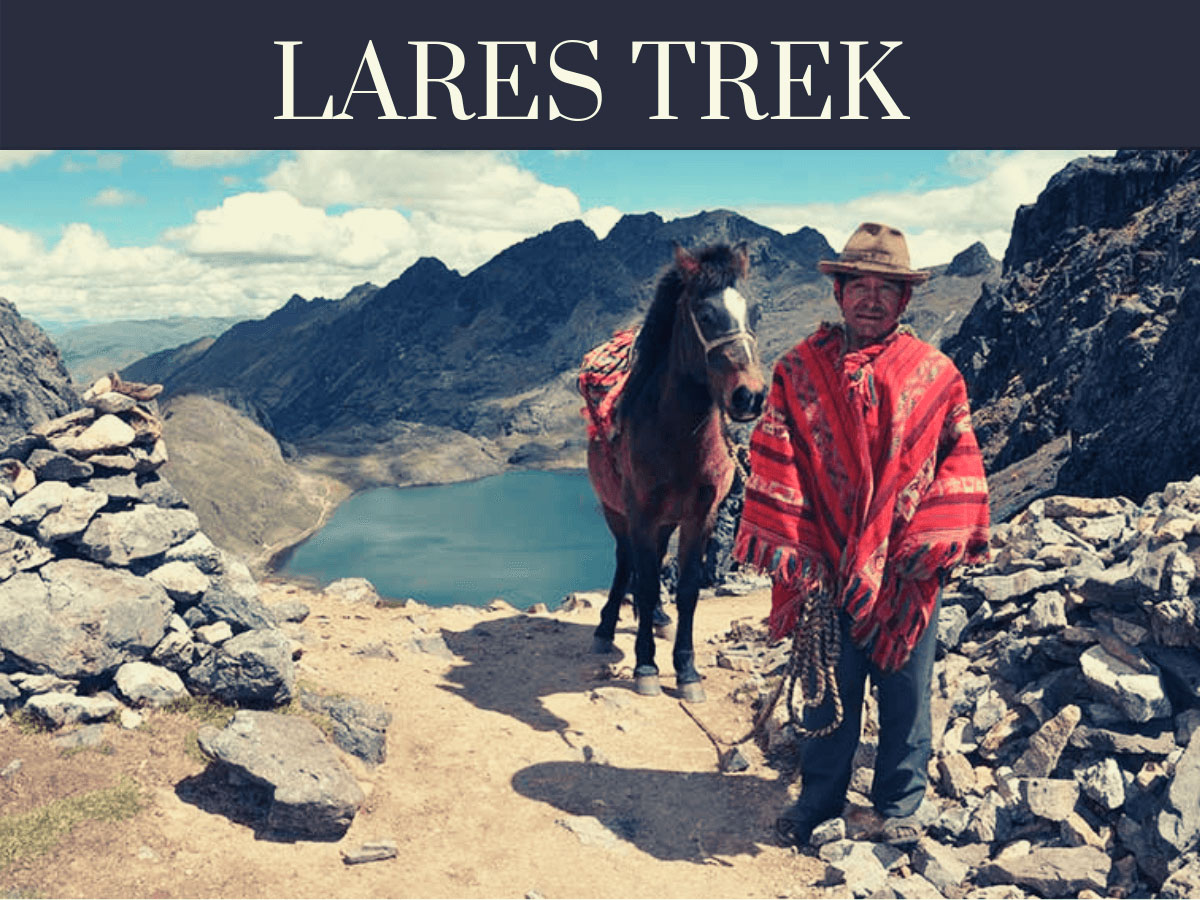 An excellent alternative to the Inca Trail. Taking you off the beaten track with visits to authentic Andean communities whilst being surrounded by stunning mountains, lakes and valleys. This trek combines amazing mountain scenery, glacier lagoons, cloud-forest valleys and authentic Quechua textile communities as well as a visit to the Lares hot springs.
Visiting Machu Picchu
Long before dawn, visitors eagerly queue up outside the bus depot in Aguas Calientes, hoping to be one of the first persons to enter the site. Why? Because only 400 people are permitted to climb Huayna Picchu daily (the small green peak, shaped like a rhino horn, that appears in the background of many photos of Machu Picchu). Almost no one bothers to ascend the pinnacle that anchors the opposite end of the site, which is usually called Machu Picchu Mountain. At 1,640 feet it is twice as tall, and the views it offers of the area surrounding the ruins—especially the white Urubamba River winding around Machu Picchu like a coiled snake are spectacular.
Also there's a great, hidden museum that no one goes to. The excellent Museum Manuel Chávez Ballón ($7 entry) fills in many of the blanks about how and why Machu Picchu was built, and why the Inca chose such an extraordinary natural location for the citadel. First you have to find the museum, though. It's inconveniently tucked at the end of a long dirt road near the base of Machu Picchu, about a 30-minute walk from the town of Aguas Calientes.
A botanical gardens and waterfalls are an hour and half easy walk from Agua Calientes, mostly besides the railroad tracks and valley. Depending on the time of year, hundreds of butterflies hatch within the enclosure in a myriad of colors, and...
Thermal Hot Springs are located less than a kilometer from the villages. They are actually thermo-medicinal waters, surrounded by a beautiful landscape of mountains. So don't forget your bathing suit.
Machu Picchu Entrance Tickets
Entrance tickets for any of the routes are not sold at the access control. In the case of Huayna Picchu, you will not be able to enter this area without the corresponding Machu Picchu entrance ticket. For the case of the mountain Machupicchu 800 visitors. Remember that Machu Picchu Tickets cost are different according to the ticket you choose:
General rate for foreign visitors - Machu Picchu tickets 2022
Adult
Student
(No older than 25 years old)
Child
(3-17 years old)
Machu Picchu Solo
PEN 152
PEN 77
PEN 70
Huayna Picchu + Circuit 4
PEN 200
PEN 125
PEN 118
Machu Picchu Mountain + Circuit 3
PEN 200
PEN 125
PEN 118

Montaña Huchuypicchu + Circuit 4

PEN 152
PEN 77
PEN 70
Machu Picchu ticket + Museum
PEN 22
PEN 11
PEN 8
→ The ticket rate was establish in soles (PEN), the legal and regular currency in Peru.
Promotional rate for CAN members
Adult
Student
(No older than 25 years old)
Child
(3-17 years old)
Machu Picchu Solo
PEN 64
PEN 32
PEN 32
Huayna Picchu + Circuit 4
PEN 112
PEN 80
PEN 80
Machu Picchu Mountain + Circuit 3
PEN 112
PEN 80
PEN 80

Montaña Huchuypicchu + Circuit 4

PEN 64
PEN 32
PEN 32
Machu Picchu ticket + Museum
PEN 22
PEN 11
PEN 8
Machu Picchu Pictures