In Peru there is a magical place located just over 300 km south of Lima, this is an oasis that stands out in the middle of the immense desert of the coastal region of Ica and its huge dunes: the Huacachina Oasis.
Known as the ´Oasis of America´, it is considered one of the few natural oases that can be found in American territory. It is a perfect place, with a spectacular landscape formed by a lagoon of emerald green waters and large dunes that invite you to practice adventure sports such as sandboarding, motocross, and tubular.
The Huacachina Lagoon in Peru owes the green color of its waters to the outcrop of underground currents. Its beauty also lies in the abundant vegetation that surrounds it, where large palms, eucalyptus, and harangues (species of carob tree) stand out, which serve the rest of the migratory birds that pass through the region.
Between February and March, you can see the maximum splendor of the greenery of the vegetation of the Huacachina Oasis. This is the season that receives more tourists, who do not resist taking a boat ride through the lagoon.
Huacachina Sandboarding
Its geography invites the traveler to practice adventure sports such as traveling in Buggy, a large car-shaped vehicle that will transport you through the impressive dunes at full speed, living a moment full of adrenaline. Huacachina Sandboarding tours allow you to slide through the sand of the desert on a board (sandboard), using movements similar to surfing or skateboarding, it can be performed standing, sitting, or even lying face down for beginners, it all depends on the level of difficulty.
Similar to snowboarding, except that it is practiced on sand instead of snow. Huacachina Sandboarding tours usually include a buggy ride.
Going down a dune sliding down the sand brings an incredible feeling. If you do not have much experience, it is convenient to mount the sandboard as if it were a sled, face down on the stomach. This allows a very simple and very fast descent through the dunes.
You can also rent paddle boats or pedals to tour the lagoon. It is possible to swim in it, although the water is not particularly clean, so caution is recommended.
Recommendations for Huacachina Sandboarding:
Use a lot of sunscreens: The sun is very strong and can damage your skin.
The wind carries a lot of sand that can get into the eyes and mouth. Therefore it is important to wear sunglasses.
Keep in mind that the buggy ride resembles a roller coaster. Drivers usually do several stunts in the sand, so it is essential to be prepared.
If you do not have experience in sandboarding, do not practice standing, as you could hurt yourself. If you take this sport seriously, you should go to one of the agencies and acquire a suitable board; otherwise, you will find standard homemade plywood boards.
Do not bring your phone as it is easy to lose it in the sand.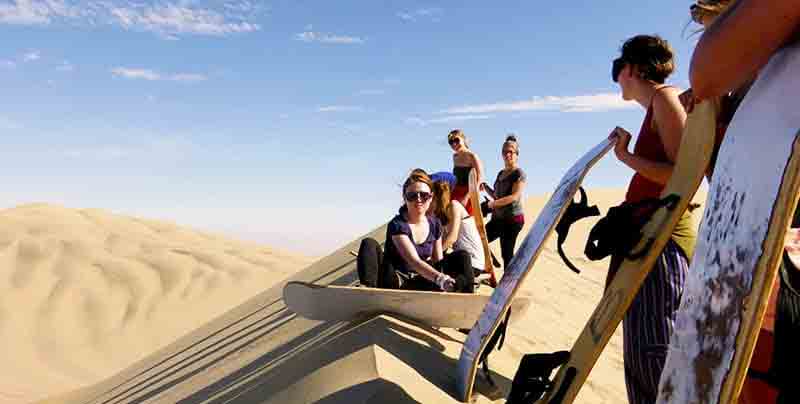 How to get to Huacachina from Lima?
To get to Huacachina from Lima, you must arrive in Ica. The bus journey to Ica takes between 4 to 5 hours and the ticket costs approximately 40 soles. Once in Ica, the journey to Huacachina Perú takes 10 minutes by taxi. The drivers at the bus terminal will charge you around 10 soles.
You will not need more mobility once you have arrived. The city of Huacachina Perú is small and visitors can walk from one extreme to another in a few minutes.
How to get from Huacachina to Cusco?
By bus
They are 820km that will take between 15 and 17 hours to make the journey by bus from Huacachina to Cusco. The different companies that make this journey are Civa, Oltursa, and Tepsa. The price range varies from 80 soles to 185 soles depending on the company and the type of seat you choose. I recommend that, taking into account that you will save a hotel night, pay a little more for a good seat or you will arrive busted!
By air
To get from Huacachina to Cusco, you can take a plane directly from the city of Pisco.
Huacachina, being an oasis in the desert, does not have an airport, but you can take a flight from a nearby city: Pisco, which has the «FAP Captain Renán Elías Olivera Airport». From the Huacachina Oasis take a bus that leaves you in Ica. Then, from Ica you must take a bus to Pisco (the Peru Bus company covers this route in just under 2 hours and has buses every 2 hours approximately). Finally, you can take a flight to Cusco.