To travel to Peru and make the way from the Inca Trail to Machu Picchu is not necessary to have medical insurance or health insurance, however, it is highly recommended to have health coverage in Peru.
The most recommendable thing is that before making the Inca Trail hiking it is to stay 2 or 3 nights in Cusco to acclimatize to the altitude and also to foresee any unforeseen event such as a cancellation of flights or a blockade of the route.
It is recommended that you buy travel insurance. When you buy your travel insurance, make sure that the minimum coverage includes: the cancellation or interruption of the Inca Trail Book 2023 that allows you to recover the hotel and public transport services that have been paid and can not be recovered, luggage delay, theft or loss of luggage or documents, medical expenses, emergency assistance, accidental death, and dismemberment. We recommend having a copy of your insurance policy on hand throughout your trip.
Why hire Inca Trail Travel Insurance?
Because you do not know what problems you can face, such as an injury, getting sick, intoxication, etc. When going to another destination, health may not be 100%, especially when food, climate, and even water are different.
With insurance and assistance to the traveler you will have the guarantee that, if any of the above situations are presented to you, you will be able to communicate with an assistant to help you solve your problem, either by contacting the closest care center or by sending a doctor to where you are.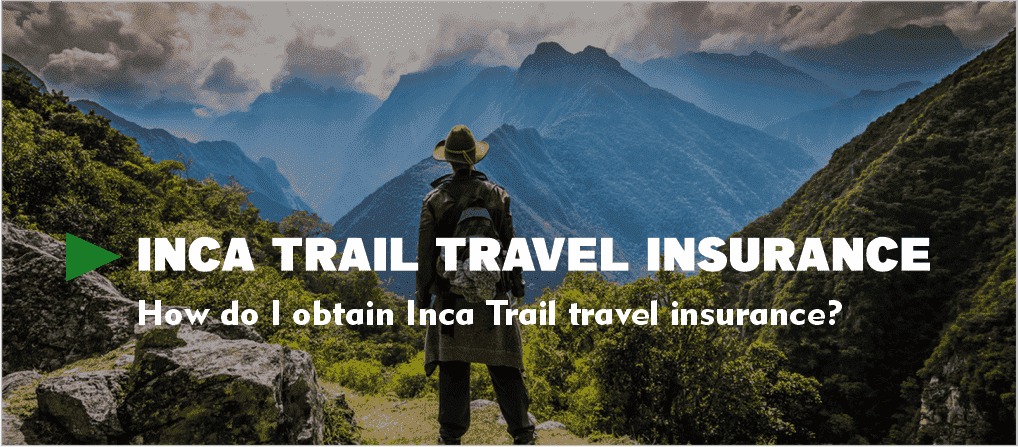 How do I obtain Inca Trail travel insurance?
You can acquire it by quoting yourself on the Inca Trail Travel insurance, where you must enter the data of your trip and you can obtain a complete list of the insurance and coverages available for your trip at the moment. Compare the benefits and choose the one that best suits your trip and your budget.
Then pay by selecting your payment method and that's it.
Security on your trip to Inca Trail
Is Cusco safe?
Yes, Cusco is one of the safest cities in Peru; You can walk freely through the streets of Cusco without fear; Except maybe, being besieged by many street vendors, but that's it. All tourist areas in Cusco, are guarded by agents and security cameras.
Is Machu Picchu safe?
Before any Machu Picchu trips, you must pass through the town of Aguas Calientes (Machu Picchu town), it is a small town at the foot of the Machu Picchu mountain, and it is the last train station to Machu Picchu and yes, it is pretty safe. You will not find more vehicles than the buses that go up until the entrance to the Inca City. You will feel very well here, as you will find many people from all over the world, who decided to make this small cosmopolitan town their home. The security inside the Inca City of Machu Picchu is guaranteed, you just have to follow the indicated trails and enjoy its incredible buildings. To visit this incredible archaeological site book your Machu Picchu Tickets 2023 in advance.
Is the Inca Trail safe?
The Inca Trail hike tour is not a dangerous destination, if taken into account, all the recommendations of the case.
The Inca Trail to Machu Picchu is only allowed, to do so, with a Travel Agency, and as such, we provide a quality service, with professionals at your service and good camping equipment (This includes an official tour guide with knowledge of first aid).
If you have any health problems, let us know, before the walk, check with your doctor, whether or not the Inca Trail should be done; it is necessary to be in good physical condition so that the Inca Trail is not a risk, but rather a satisfaction.
Important
While there have been occasional cases of death in Machu Picchu, these occurred because people did not follow the safety instructions; such as the case of a German tourist who transferred the security lanyards for a selfie. Take into account the recommendations that are given and always follow the indications of the routes to follow in your walk through the Inca citadel and its surroundings.
Security Tips on your trip to the Inca Trail
First of all, you should know that the route is properly signposted, with clear trails, suitable for the transit of tourists, with control of the vegetation, along the path used, the streams are clean, as well as the surrounding forests. SERNANP (National Service of Natural Areas Protected by the State), is in charge annually of giving maintenance to the pedestrian way that allows arriving at Machu Picchu, and permanently keeps parks.
Second, you should know that during the rainy season, there are landslides, the floor is slippery, and there are trails with ravines that are dangerous, that is why the month of February, which is when it rains most, closes the Inca Trail. The best time to do this walk, is the dry season, between May to October, although as the weather is so changeable, a sporadic rainstorm is not ruled out.
Thirdly, it is necessary to respect the Inca Trail regulations, your guide will inform you, about what can and can not be done; many visitors can, from there, innovate a new route, separate from the group, light fires, camp in places not allowed, etc. All that, if it does, would negatively affect you.
Inform yourself, of everything related to the route, all the doubts you have, should be resolved, we are at your disposal to answer all your questions, ask your question. Do not look for a service, very cheap, remember "Cheap is expensive", you must have the guarantee that in case of any emergency, you will have timely and professional attention.
Finally, take into account, the recommendations that are provided before making the Inca Trail, such as physical preparation, luggage, and effects of height.
Health on your trip to the Inca Trail
Who should visit a doctor before their trip to the Inca Trail?
The only way to enter the Inca Trail is through Cusco, and this city is at 3,400 m.s. so if you suffer from cardiorespiratory diseases, chronic diseases, or those mentioned below we recommend you visit a doctor before your trip.
Circulatory problems such as arterial hypertension, and heart disease.
Respiratory problems such as asthma, emphysema, or recurrent bronchitis.
Cardiac problems, such as tachycardia, myocardial diseases, epilepsy, or others.
Any illness that causes you to pass out during the trip.
Frequent health concerns for Inca Trail
Altitude sickness: Cusco is at 3,399 m.s. what makes altitude sickness a real concern. The symptoms are several, they can suffer headaches, dizziness, vomiting, palpitations, and even peak blood pressure. We recommend you acclimatize on arrival. Machu Picchu is just below the limit where altitude sickness normally occurs (2,500 m). The classic Inca road to Machu Picchu, however, rises to a height of risk (4,500 m). While Machu Picchu is below the critical height, the Huayna Picchu mountain if you have enough altitude for you to feel the symptoms of altitude sickness, that is why we recommend taking at least 1 day to acclimatize, you can do it in the city of Cusco, or even better, in the Sacred Valley of the Incas.
Diarrhea: Diarrhea is a common disease in Peru due to the stomach sensitivity of some travelers, who can not stand the changes in the cooking and preparation and ingredients of food, to prevent this disease avoid eating heavy meals, at least until their Organism gets used to the new foods and the change of altitude and climate.
Another frequent problem is usually gastroenteritis or salmonella, due to the ingestion of some badly cooked food, more washing, or drinking tap water.
Health tips on your trip to the Inca Trail
These are some hygiene tips that you should consider while you are traveling on the Inca Trail. The change in altitude, climate, environment, and eating habits, among others, require some rules of hygiene and sanitation that every traveler should know.
Avoid making effort or eating heavy meals during your first day in Cusco, this can contribute greatly to getting sick of "altitude sickness".
The use of water is also important, it is recommended to always carry water purification tablets. Remember, you can not drink the water that is on the road but has been boiled or treated previously.
Avoid milk and derivatives.
Your physical condition is very important, consider visiting the podiatrist, since your feet for the walk should be in perfect health.
If you are a blood donor, make your last donation at least 8 to 10 weeks before traveling.
Disinfect yourself or wash your hands often, preferably with antibacterial soap.
You can buy fresh fruit, and wash them before consuming it. Fruit is always the best alternative; However, be careful with some fruits such as mango, it is delicious, but you could have an upset stomach if you consume it in excess or if you were previously exposed to the sun.
On the other hand, the use of repellent, is very necessary, as well as, the use of sunscreen, due to the proximity of Peru to the equatorial line. Remember that the sun's rays are stronger in height.
Finally, we suggest that to avoid major problems, please inform us, at the time of purchasing the Inca Trail package, about your health problems such as high blood pressure, circulatory problems, heart problems, or others, to prevent and take the necessary security measures.
Considerations of low or no risk for Inca Trail
These are the vaccines that can be overlooked if you come exclusively to the Inca city of Machu Picchu and travel the Inca Trail.
Yellow fever: According to the CDC (Centers for Disease Control and Prevention), travelers who are limiting trips to the cities of Lima, Cusco, and Machu Picchu do not need this vaccination.
Rage: It is unlikely that any doctor will recommend the rabies vaccine for a short trip to Machu Picchu unless you participate in specific activities.
Malaria: It will not require antimalarial drugs for a trip to Machu Picchu unless your itinerary also includes the Peruvian Amazon. According to the CDC, there is no risk of malaria for visitors who visit only Lima, the coastal areas south of Lima, Cusco, Machu Picchu, or Lake Titicaca in the highlands.
Dengue: There is no vaccine against dengue. Prevention is based on avoiding mosquito bites. Cusco and Machu Picchu are low risk areas.